Not too long ago, if you went to an NHL game, you would be virtually guaranteed a good fight. Nowadays? They are as rare as hen's teeth. Thankfully, cameras were there recording the punch-ups of years past. This means that while you won't see many fights in current NHL games, you still have years of amazing fights to tap into.
The best NHL hockey fights range from the Ottawa Senators v Philadelphia Flyers in 2004, to a classic fight in 1987 that pitted Bob Probert vs. Kevin Maguire. There is so much history in the world of on-ice fights, and some of them are real doozies.
On this page, I will walk you through six of what I believe are the best NHL hockey fights of all time.
List of The Best NHL Hockey Fights of All-Time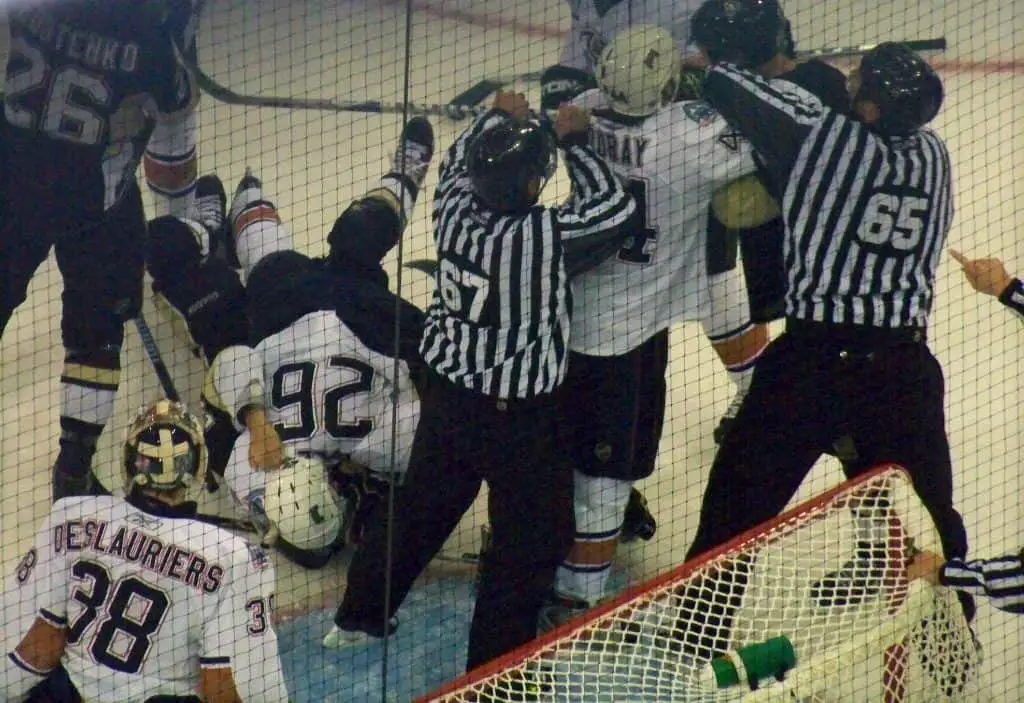 Ottawa Senators vs. Philadelphia Flyers (2004)
Let's kick off with a real classic fight. Honestly, I am envious of anybody that was sitting in the arena for this one.
Near the end of the game, it all kicked off. With about around 2-minutes left on the clock, a fight broke out in the center of the court. Pretty simple stuff. Some cuts and scrapes, but no different from what you would have normally seen on the ice at this time.
However, the fights didn't end there. Oh no. It turns out just about everybody on the teams were riled up, and it wasn't long before you had loads of mini fights breaking out all over the court. Anybody there wouldn't have had a clue which piece of action to focus on.
Bob Probert vs. Kevin Maguire (1987)
Bob Probert was one of the top fighters of his time…but there is no denying that he fought pretty cheaply in this game.
After a massive bundle on the center ice, which lasted almost five minutes, Kevin Maguire was absolutely destroyed by the opposing team's enforcers. Just when he thought it was over, Bob Probert rushed him and gave him a fairly hefty knock on the chin. It turns out that this was all that was needed to get things happening again.
This is one of our favorite fights featuring Bob Probert, mostly because it was from such left field. However, just about any game featuring Bob Probert would have had a fight or two that you could have watched. He really was one of the classic fighters. They don't make them like this anymore.
Krys Barch vs. Brad May (2008) 
There really isn't just one fight that I can focus on between these two. All throughout the 2008 season, whenever Krys Barch faced Brad May, you knew that the two players would be at loggerheads. 
If you want to see one of their better fights of the season, then you need to check out their 15th January 2008 fight. The two were going all-in with the heavy punches. I am pretty positive that both of them walked away pretty dizzy after that epic bout! 
Detroit Red Wings vs. Colorado Avalanche (1997)
I do love myself a good all-team fight, and I am pretty sure the fans felt as if they got their money's worth in this epic battle. Even the goalkeepers got in on the action!
Just for a single fight, there were well over 200 penalty minutes. I am not sure whether this is a record, but I am fairly confident that it is going to be up there with the largest number of penalty minutes in a game.
It is fair to say that the two teams absolutely loathed each other throughout the game. While I didn't catch this one on TV, I am fairly confident that tensions were probably sky-high throughout the rest of the match. I am fairly confident that a few more punches managed to get thrown in there.
Aaron Downey v Jesse Boulrice (2007)
This fight lasted around 5-seconds. So, why do I include such a short fight in a mass of epic brawls? Well, because the fight was incredibly intense, and just one punch was thrown!
I am sure that Aaron Downey could have had a career as a boxer. All it took was one well-placed punch on the chin, and Jesse Boulrice was left knocked out on the ice. Sure, I know that I shouldn't be celebrating somebody being knocked out, but the speed of this fight really took us by surprise.
Montreal Canadiens vs. Boston Bruins (1987)
It turns out that neither of these teams got the memo that what happens on the ice stays on the ice.
There was clear hatred between these teams in 1987. The Fight was so intense on the ice that it eventually spread over to the hallway and the locker rooms. 
Sadly, the latter fights do not seem to have been caught on camera. However, I can really see the passion these teams had when fighting for their honor!