Goalies often possess qualities like excellent athleticism, mental toughness, and good concentration, but are these qualities enough for them to be a captain?
As a general rule goalie cannot officially be the captain in the NHL, as it goes against the Durnan rule, which states that no goaltender, coach, or manager can act as a captain or even alternate captain. However, a goalie can act as an 'unofficial captain' and exercise his captaincy off-ice.
History of the Durnan Rule
The last official goalie to be known in the NHL was Bill Durnan who served as the captain for the Canadiens during the 1947-48 season, and the Durnan rule came into effect because of him.
The other teams complained that Durnan deliberately left the crease to argue with the referees in order to provide the Canadiens unauthorized and extra timeouts, which led to the passing of the Durnan rule, barring goalies from acting as captains.
Why Can't Goalies Act As Captains?
Apart from not letting goalies take unofficial timeouts, one of the reasons why goalies aren't allowed to act as captains are simply because it's inefficient.
As a captain, a goalie would have to leave his crease, skate all the way to the referee crease, discuss matters such as minor penalties, penalty shots, etc. and then return to the crease. This consumes a lot of time, causing unnecessary delays in the game, which is why teams are better off just designating a regular, non-goalie member as the captain.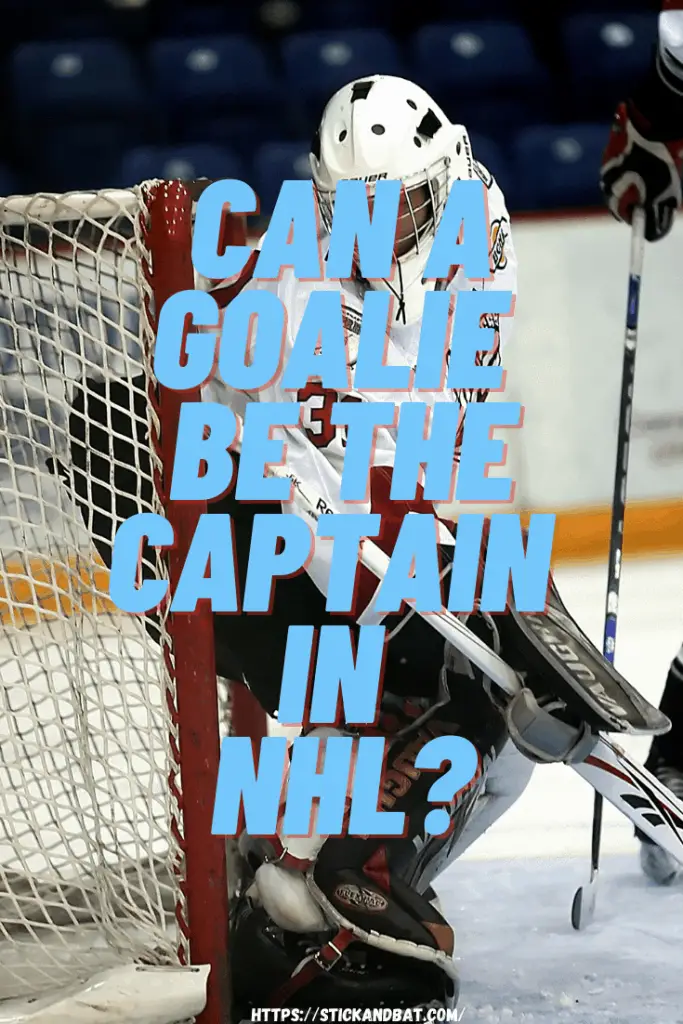 A goalie-captain would also not be able to compartmentalize his duties either as a goalie and a captain since his main job is not allowing the puck to strike the net, which requires a great deal of mental focus.
If the goalie has to bear the extra burden of motivating his team members as a captain, constantly leaving the crease and discussing matters with the referee, and then returning to his position, it will distract him from his main duties as a goaltender.
Is There a Way To Get Around the Durnan Rule?
Yes, provided that the "goalie-captain" does not perform any official duties as a captain, such as speaking to the referees.
The Vancouver Canucks got around the Durnan Rule by electing Willie Mitchel as the official captain, while Roberto Luongo served as the off-ice captain. Luongo wasn't allowed to wear the "C" letter on his jersey as per the NHL rules, but he painted a "C" over his mask which didn't cause any issues.
Eventually, Luongo stepped down from his role as a captain so he could dedicate his focus entirely on his goaltending duties. Till the Durnan Rule remains in effect, it is very unlikely to see any goalie taking on the role of a captain, official or off-ice, since it causes more trouble than it is worth.
Can Goalies be Captains in Other Leagues?
The Durnan Rule applies not just in the NHL, but all other leagues, such as IIHL, NWHL, AHL, USA Hockey – you name it. Official goalie-captains are illegal in all leagues for the same reason – they provide teams unnecessary breaks and time-outs.
List of The Former Goalie Captains in the History of NHL
In total, there have been 6 goalie captains in the history of NHL, mentioned in chronological order below:
| | | |
| --- | --- | --- |
| Name Of Goalie Captain | Team | Time Period |
| J. R. Roach | Toronto St. Patricks | 1924 |
| G. Hainsworth | Montreal Canadiens | 1932 |
| R. Worters | New York Americans | 1932 |
| A. Connell | Ottawa Senators | 1932 |
| C. Gardiner | Chicago Black Hawks | 1933 |
| B. Durnan | Montreal Canadiens | 1947 |
List of The Former Goalie Captains in the History of NHL
For unofficial goalie-captains, apart from Roberto Luongo who performed off-ice duties from September 30, 2008, till September 13, 2010, there hasn't been any other goaltender yet to take on the captaincy role.
What Off-Ice Leadership Duties can Goalies Perform?
The labels "captain" or "leader", in unofficial terms, is subjective at best. Off-ice goalie captains can still be respected and taken as leaders in the locker room, where they can discuss game strategies with the team members and be a source of motivation, which can also be done during official time-outs in the game.
3 Benefits To a Goalie Being The Captain?
Apart from the cons related to time consumption, there can be several possible benefits to electing a goalie as the captain, which future NHL teams might consider if the Durnan Rule is ever lifted. For instance:
1. Goalies Are Less Susceptible To Injuries
Most outfield players are vulnerable to injuries, as they have to run around in the field all the time. This can take a toll on a captain's leadership abilities. Goaltenders, however, are supposed to stand at one place throughout the game, making them less susceptible to be injured and more mentally capable of acting as a leader.
2. Goalies Have a Full View of the Field/Ice
Goalies stand at a position where they have a clear, full view of the game and they can use this to analyze which direction the game is heading in. Most outfield players are running around or trying to retain the puck, which is a con in selecting one as a captain.
3. Common Qualities between Goalies and Captains
Naturally, goalies possess a number of the qualities that a good captain must have. For instance, the ability to work under pressure, managing the defense line, good concentration levels, and using their own bodies as a defensive weapon. A captain must also have experience, which is something goalies possess too since they stay on the team longer than most outfield members. A team changes a goalie once every 5 years.
Should the Durnan Rule Ever Be Lifted?
This is a subjective analysis. Proponents of the Durnan Rule argue that the rule should stay in effect since it closes the door of goalies strategically causing time-outs and unfair delays. Those against the Durnan Rule say that the rule was imposed just because of one goalie-captain exploiting his captaincy and doesn't mean all goalies are incapable of being captains, especially if they possess good leadership skills.