To become an NHL scout, you have to have specific qualifications. These qualifications include a detailed understanding of the sport and strong research and analytical skills. There are no academic requirements for becoming an NHL scout. 
There are only two ways of becoming an NHL scout. The first way is to become a professional hockey player so that your team may want a way to keep you in this new capacity after retirement. The second way is to do some "bird-dogging" for the local junior hockey club and work your way up. 
If you're curious about how to become an NHL hockey scout, keep on reading. There's a lot more to go over below!
What do NHL scouts do? 
The job of an NHL scout is to find rising talent. Scouts evaluate hockey players and their skills on the ice. To do this, you must travel to different games and observe the players. A scout may also interview players, coaches, parents, and even teachers.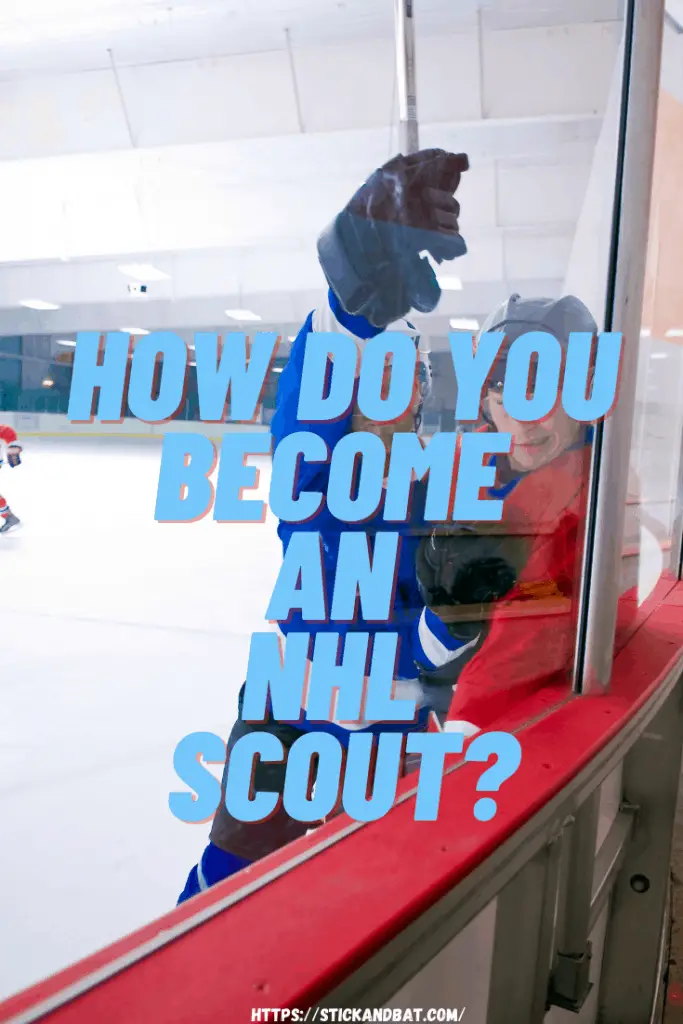 Becoming an NHL scout 
As stated before, there are only two ways of becoming an NHL hockey scout. The first is to become a professional hockey player. If you were a good teammate with charisma, your team might ask you to stay on as an NHL scout after you retire.
The second method is the most common. You may be a minor hockey coach and are asked to do some "bird-dogging". Bird-dogging is when you go out and look for talented players at hockey games. This is what happens next.
Once some of your recommendations prove to be successful, you may be offered more responsibilities. From there, you may advance to a more authoritative position within the junior hockey club. Once your team has a few successes and some players graduate to the NHL, many will remark that you have a good eye for talent.
From there, someone may recommend you to a person with authority in the NHL. They may seek you out. If they like you, they'll hire you to become an NHL scout. 
The most important thing is to continue to provide information on players who will become successful at hockey. 
Player skills to evaluate
There are many different skills and attributes that must be evaluated per each potential player when you are an NHL scout. To begin with, these include the size of the player, the type of body the player possesses, the player's speed, how they handle the stick and the puck, and their ability to pass. 
What steps should you take? 
If you have a passion for hockey and are determined to be an NHL scout, this is what you should do. First, go to the local rink as much as you can. Simply talk to the coaches there and ask if they require any help. Don't be pushy, but also don't be afraid to ask a ton of people if they need any help at all. 
Next, you'll want to go to college. Get a degree in sports management or business. While you're there, try hard to find work, either paid or unpaid, with the college's hockey team. Experience with the sport is key to becoming an NHL scout. This is where your experience with the local hockey rink will help. 
After some time working with the college's team, it's time to move on. You should be attempting to get a job with a junior or amateur hockey team. From there, after enough time and experience, you should try to get a job with the NHL. Always remember to network and use your connections. 
Don't be afraid to use the internet; it can also be a beneficial tool. Use LinkedIn and search the different profiles of people in positions you want to be in. This can help you identify the skills you will need. 
The glamour of scouting 
Many people think being an NHL scout is glamorous. You get to watch hockey, and you're paid for it! While it's undoubtedly a fantastic job, it's more of a grind than anything else. 
Why is it a grind? It's a grind because there are long hours and lots of travel. You will find yourself driving hours to a game through any kind of weather, including snow, sleet, hail, and rain. You'll constantly be writing reports when not at a hockey game. 
Overall, you will be away from home for long periods of time. You will work for long hours and travel constantly. You will undoubtedly find yourself at hockey games where there is no star talent. 
Scouting Tips 
Always talk to players, coaches, teachers, parents, and friends. You will always gain great insight and information from these people. Don't be afraid to talk!
A good scout never sees the last two minutes of a hockey game. The consensus among NHL hockey scouts is that if a player hasn't shown you anything worthwhile in fifty-eight minutes, they generally won't during the last two. 
It's best if you like to travel. If you don't want to travel, then being an NHL scout is not the job for you. It will entail long traveling hours and days or weeks on the road. 
Ensure you have a strong work ethic. Being an NHL scout is a lot more than simply watching hockey games. There are reports to write, notes to jot down, players to analyze, people to interview, and places to travel. If this doesn't sound fun, then being an NHL scout may not be for you. 
Conclusion
There's a lot more to being an NHL scout than just watching hockey games. As an NHL scout, you'll be traveling constantly, interviewing people, and writing lots of reports. 
If you really want to become an NHL scout, the most important thing is to put lots of time into the sport. That doesn't necessarily mean playing hockey. Rather, it means you help out on local teams and slowly work your way up to the NHL level. 
Dedication and commitment are important when becoming an NHL scout. It will take lots of long hours to achieve this dream. But that shouldn't stop you if you really want it!