In hockey, the term hat trick is defined as 3 goals scored in a game by a single player. For a conventional hat trick to be a natural hat trick, the player must score 3 consecutive goals, which means 3 goals in a row. There must be no goals made by either team between the player's three goals.
We'll go over natural hat tricks in this article so you can learn everything there is to know about one of hockey's most difficult feats!
What is the Difference Between a Conventional Hat Trick and a Natural Hat Trick?
You may have been to a hockey game recently, and between the loud buzzers, periodic fistfights, and crazy fans, it might have been hard to figure out why there was a sudden cascade of hats onto the ice.
When a player scores three goals in a single game, this is called a hat trick.A traditional celebration for a hat trick is for the fans to throw their hats onto the ice, much to the chagrin of the clean-up crews.
While 3 goals in a single game are impressive, there is a type of hat trick in hockey that is even more rare and difficult to achieve. This is called a natural hat trick.
A natural hat trick occurs when a player not only scores three goals but scores three goals in a succession without being interrupted by other players from either team.
What separates the two hat tricks is what happens between the three goals. If anyone else scores a goal between the player's three goals, it's just a standard hat trick, not a natural hat trick.
Who Has the Most Natural Hat Tricks in Hockey?
When it comes to hat tricks, Wayne Gretzky holds the record, at 50 hat tricks in a regular season, a large number of them being natural hat tricks.
Gretzky holds a ton of other records, so it's to be expected that he would hold this record as well. He wasn't called "The Great One" for nothing!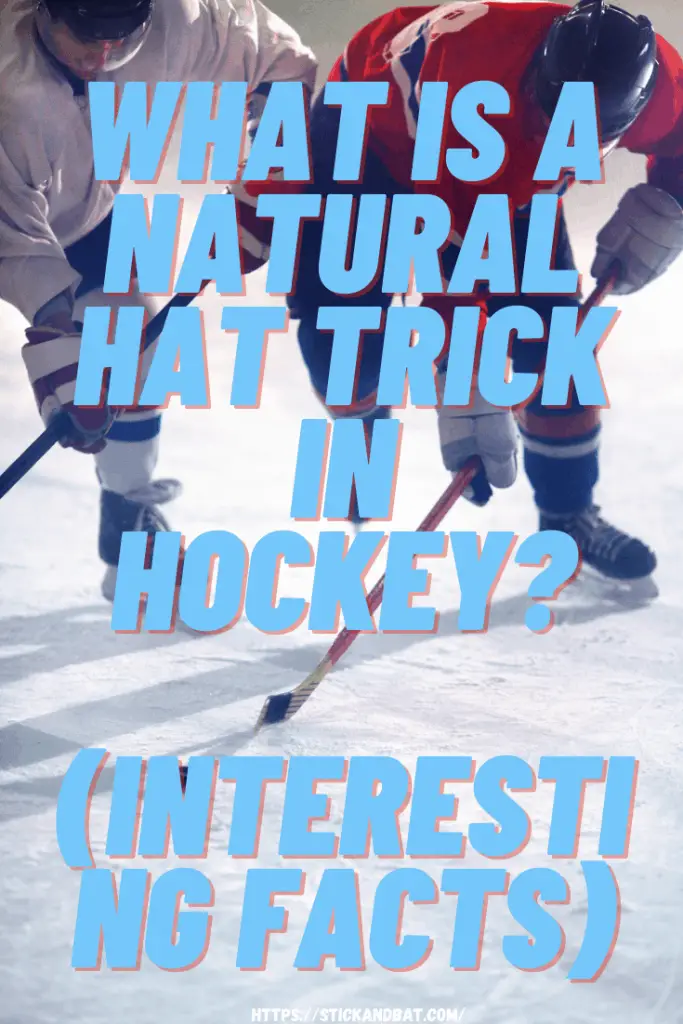 How Many Natural Hat Tricks Are There in the NHL?
Based on research done by gaimday.com, in seasons all the way back to the 2016-2017 regular season, 13.6% of the hat tricks scored by NHL players were natural hat tricks.
When you break that down, the difficulty of a natural hat trick versus a regular hat trick becomes even more apparent.
338 hat tricks occured during the regular NHL seasons dating back to the 2016-2017 season, and only 46 ended up being natural hat tricks!
Who Scored The Fastest Natural Hat Trick?
Natural hat tricks, by their very nature, must almost always be performed rapidly. The longer the gap between goals, the more chances other players have to score and break the streak.
Because of this, time is of the essence when a player is aiming for the elusive natural hat trick. This leads us to wonder, who scored the fastest natural hat trick?
The answer is Bill Moisenko of the Chicago Blackhawks. During the 1951-1952 season, Moisenko scored a hat trick that took only 21 blistering seconds!
Bill Moisenko achieved his speedy natural hat trick when playing the New York Rangers in Madison Square Garden on March 23rd, 1952.
Interesting Facts Hat Tricks in Hockey
As with all difficult accomplishments in sports, there are some fun and interesting facts about natural hat tricks that you might not have heard of.
A few of them are:
Only two defensemen have scored a natural hat trick going back to the 2016-2017 season. Those two defensemen are Jared Spurgeon, current captain of the Minnestoa Wild,  and Justin Faulk, currently of the St. Louis Blues. It isn't hard to see why defensemen, who aren't the main goal scorers on a team anyway, don't score many natural hat tricks, making it even more special when it happens!
In the same vein as the last, if you look at the statistics all the way back to the NHL's first season in 1917, only a dozen defensemen have ever scored a natural hat trick. When you think about all the defensemen that have been in the NHL since 1917, you can really appreciate how crazy this fact is!
Only 1 single defenseman has ever scored a natural hat trick during the playoffs, Dick Redmond, a defenseman playing for the Chicago Blackhawks.This historic natural hat trick was scored on April 4th, 1973.
On the very rare occasion that a player scores 4 goals in a game, there is a special name to along with that feat, too. This sort of hat trick is known as a Texas Hat Trick.
A funny twist on the hat trick is the Gordie Howe Hat Trick. This amusing accomplishment is when a player scores a goal, gets an assist on a second goal, and participates in a fight, all during a single game. This trick, made famous by Mr. Hockey himself, is both impressive and hilarious. 
The only time that 3 goals don't equal a hat trick is when the third goal is gotten during a shootout. This also goes for natural hat tricks. All 3 goals must be scored during regulation or overtime. 
The term "hat trick" actually didn't start with hockey, believe it or not. The phrase originated in the sport of cricket, and it was used when a bowler took three wickets in three deliveries. To commemorate this achievement, the club would present the bowler with a hat!
Final Thoughts
One of the more difficult achievements in any sport, the natural hat trick is something that a lot of young hockey players dream of one day achieving.
When a player scores three goals in a game during regulation or overtime, it is known as a conventional hat trick; however, the natural hat trick is much more difficult. Natural hat tricks require a player to get his 3 hat trick goals consecutively.
There are several natural hat trick records, including the fastest natural hat trick and the most natural hat tricks by an NHL defenseman. 
Natural Hat Tricks are something to be proud of for any NHL player and is undoubtedly a once-in-a-lifetime sight for hockey fans who attend their favorite team's games.
If you're lucky, maybe you'll get to see one at your next game!