Bauer's Supreme S29 ice skates are considered the ideal skate for beginners who want maximum performance from their skates but don't want to break the bank. The Bauer Supreme S180, on the other hand, is considered the ideal skates for players who are just getting serious about their game. If you're ready to step up to more competitive hockey, the S180 is one of Bauer's most competitive skates.
Continue reading to learn more about the Bauer Supreme S29 vs. the S180, as well as which one is perfect for you and your ability level.
Are Bauer Skates Considered Good for Ice Hockey?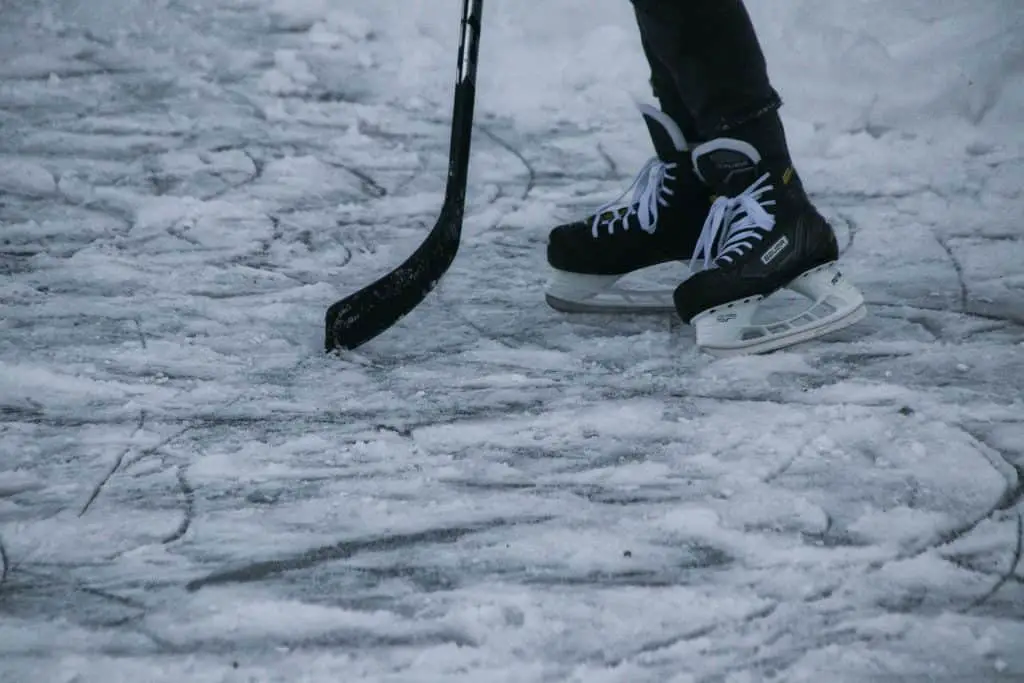 Bauer makes some of the greatest hockey skates, the Supreme S29 and S180 Professional Hockey Skates are no exception.
Bauer beginner skates are low-cost entry-level hockey skates that provide beginning players more stability and balance. Bauer's latest skates, like the S180, feature more mobility, flexibility, and comfort, making it easier than ever for younger beginners to acquire basic skating maneuvers on the ice.
Not only do Bauer's ice hockey skates give increased mobility, flexibility, and comfort, making it easier than ever for younger beginners to learn the fundamental skating actions on the rink, but they are also designed to satisfy the demands of athletes who need to get on the ice for practice or games and have an athletic style that allows you to move around effortlessly on the rink.
On the other hand, Bauer's novice hockey skates provide the appropriate level of protection, support, and comfort for those just starting in the sport.
Why is Bauer Considered So Reputable?
At least one Bauer item of equipment is worn by almost 90% of NHL players and Bauer skates are worn by seven out of ten professional players. Bauer also claims to have eclipsed iconic company CCM, which was purchased by Reebok in 2004, as the largest seller of sticks, helmets, skates, and goalie gear in North America.
What is the Bauer Supreme Skate Line?
Bauer's Supreme skates have been around for years, with upgrades occurring every year or so to advance hockey played to better skating skills. The Bauer Supreme skates are lightweight, weighing as little as 500 grams each skate, with a frame, deck, and blades in a boot that is somewhat less stiff on the stiff side of the range.
This will provide optimal balance in support and range of motion, making it ideal for players who seek the benefits of a heavier shaft in a lighter boot.
Why Do People like Bauer Supreme Skates?
People tend to like Bauer since it has a more significant market share in the NHL.
Bauer swiftly surpassed CCM as the most dependable hockey brand after introducing their Tuuk fast release holder technology, which pushed Bauer ahead of CCM in market share. When it first became available, Tuuk technology was innovative, especially for NHL players who may need to swap runners in the middle of a shift.
Which is Better: The Bauer Supreme S29 vs. S180?
Overall, the S29 is considered more of a beginner skate, whereas the S180 is recommended for a more advanced skater. While the S180 is not a top professional skate worn by NHL players, it contains more factors that allow for a more intricate skate. 
Why Do People Like the Bauer S29 Skates?
The S29's are considered more basic hockey skates and are noted for their anatomical fit, which helps boost overall power for an explosive stride when paired with crucial updated features. Bauer's S29 has a lot more features than the S27. 
The boot itself, which is already quite robust, has a little more flex than the S27, allowing the skate to perform to its total capacity without breaking down over time. The quarter package comprises a 3-D fiber composite+ material that is 3-D injected for an immediate anatomical fit.
This skate offers a superb wrap around the foot for a tailored fit before the skater even touches the ice since it is fully thermoformable. The Supreme S29's tendon guard is more flexible than those seen in earlier Supreme models, allowing for complete extension during the toe-snap procedure.
Benefits of Skating on the Bauer S29
On the S29, the LS1 stainless steel runner improves edge retention and overall longevity. The S29 introduced the Tuuk Lightspeed Edge, arguably the most popular holder in the NHL today. This rapid trigger mechanism lets skaters swap up their steel in seconds.
The S29 is somewhat heavier than prior versions due to the addition of extra material for improved high-end performance. The Supreme range of skates includes a mid-heel pocket that accommodates mid-instep and ankle wrap needs, making them ideal for skaters with standard foot sizes.
The new Supreme S29 from Bauer crams a lot of technology into a compact package and it targeting towards the aggressive, elite skater who wants to optimize their power with an anatomical boot to take their game to the next level.
Limitations You May Experience with the Bauer S29
The Bauer Supreme line was made and promoted for beginner hockey skaters. While these skates will do the job and get you on the ice, there aren't many extra factors besides comfort to help your skating ability. The Bauer S29 is considered more 'beer-hockey" skates than professional ones.
Why Do People Like the Bauer S180 Skates?
Bauer's Supreme S180 skates are ideal for athletes who are just starting to take their game seriously. Manufactured for players who spend a lot of time on the ice, Bauer took the sweating factors into consideration to equip the S180 skate with a Hydra Max mesh lining material. This material has been tested to dry up to five times quicker than previous supreme skates.
Benefits of Skating on the Bauer S180
Bauer's Supreme S180 hockey skates are one of the greatest deals on the market. The rigidity of a full Curv Composite boot may be found without the high price tag. Curv Composite is more receptive to your stride, being lighter, more durable, and more responsive to your stride.
As soon as you put them on, you'll sense a change in stiffness and weight. You won't want to take these off once you walk on the ice and feel the difference.
The S180 is equipped with Tuuks Lightspeed Edge Holder, an industry standard that includes a patented rapid release trigger mechanism for quick blade changes and a 3mm height increase for a more aggressive stance. For years, Bauer LS2 Steel, which has established the benchmark for Bauer's steel, has been slotted into the Tuuks.
The Bauer Supreme S180 Junior Hockey Skates also include Bauer's Hydra Max lining, which acts as a moisture management system in the Bauer Supreme S180 Junior Hockey Skates and performs an excellent job of wicking away the perspiration.
The interior of the S180 comprises lightweight heat-modifiable memory foam cushions that work in tandem with the FORM-FIT+ 40/32-ounce 3 pieces felt tongue to give a supple and secure fit. Finally, Bauer's S180 model also has a footbed that stabilizes the grip, moisture management, and an HD heel cup to ensure your feet are snug and comfortable from heel to toe.
Limitations You May Experience with the Bauer S180
When choosing a pair of Bauer S180 skates, keep in mind that if they are not adequately laced, they might cause discomfort and pain. Lace bite the term this. The Bauer S180 hasn't received many complaints, but lace biting is, unfortunately, among them.
Since lace bite can develop in practically any pair of laced sports shoes, one should spend some time re-lacing their skates and breaking them in to lessen the lace bite and skate better for longer.
What's the Difference Between the Bauer S27 and the Bauer S29?
The S29 is somewhat heavier than the S27 due to the skate's increased material content, which provides superior high-end performance.
The Supreme range of skates includes a mid-heel pocket that accommodates mid-instep and ankle wrap needs, making them ideal for skaters with regular foot sizes.
Do Any Popular NHL Players Wear Bauer Supreme Skates?
Supreme skates ensure that the athlete continually expands and offers a complete stride. Bauer's Supreme skates are worn by NHL players such as
Buffalo Sabers' Jack Eichel
Arizona Coyotes' Alex Galchenyuk
Los Angeles Kings' Jeff Carter
Boston Bruins' David Backes.
What is the Price of a Pair of Bauer's S29 Ice Skates?
Bauer's S29 ice skates are sold for a little cheaper than the S180's. At approximately $220 USD, these skates won't break your bank or cost you a considerable chunk of change for a beginner's pair of good-quality professional ice skates.
What is the Price of a Pair of Bauer's S180 Ice Skates?
Bauer's S180 skates can be found in stores or online for approximately $270 USD. With a bit of price jump between the S29's and the S180's, it won't cost you a fortune to upgrade from a more basic pair of skates to ones that won't only provide you with more comfort