Bauer and Easton are both extremely popular, well-known brands for hockey equipment, skates and sticks. While both these brands have been heavily utilized and promoted by players and the NHL alike, this leaves consumers wondering which brand makes the better products? 
The Bauer vs Easton debate has long been had, but with Bauer purchasing Easton in 2016, today, consumers will find that while Easton products are still available and heavily utilized by professional NHL players, the general population is left to decide between new Bauer equipment loaded with more recent technologies, traditional Easton sticks or second-hand Easton equipment.
Continue reading to learn more about both the Bauer and Easton brands and which skate, stick, glove, pants and helmet models are considered the best.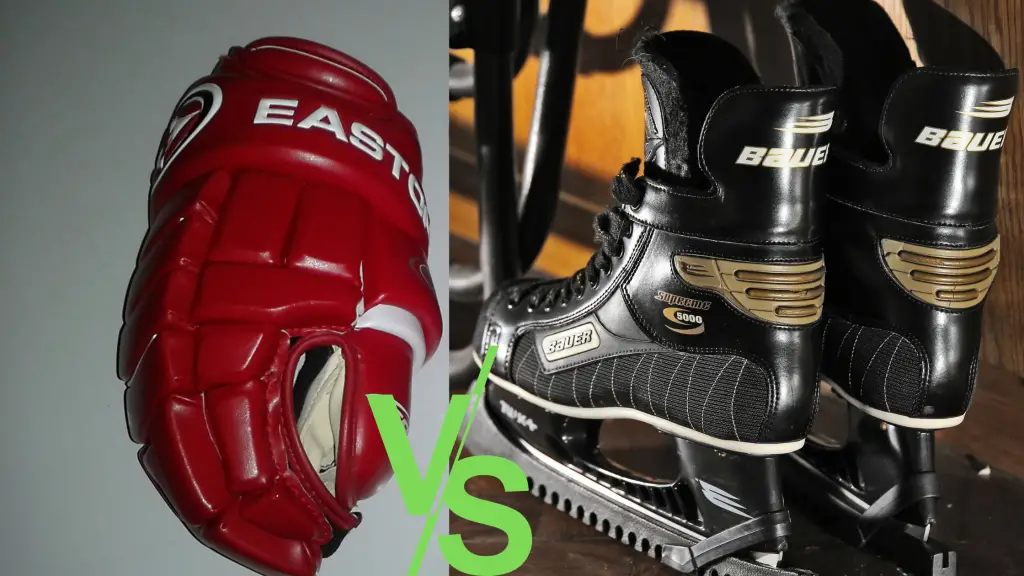 What is Bauer?
Bauer Hockey is a maker of ice hockey equipment, fitness, leisure skates and gear. Bauer provides sticks, gloves, skates, shin guards, helmets, trousers, elbow pads, hockey jocks, shoulder pads and compression underwear, as well as goaltender equipment. 
Bauer has been designing and manufacturing high-quality hockey equipment for almost a century to improve both athletes and games.
Bauer, year after year, continues to reach new technological heights to provide hockey players with the ultimate gear advantage while remaining one of the major category leaders in ice hockey. Bauer has been making lighter protective equipment for years while still giving the best protection to players. This combination of lightweight and safety offers the player the confidence to perform at a higher level without fear of equipment failure.
Do Professional Hockey Players Use Bauer?
Approximately 90% of NHL players are sponsored by Bauer or utilize at least one piece of Bauer equipment, with 70% of these athletes taking to the ice for game time on Bauer skate models. Bauer is also considered the top hockey stick provider for the league's players, edging out competitor Easton.
What is Easton?
Easton Sports, which Bauer currently owns, is still considered one of the most well-known and trusted hockey companies worldwide. Fans and players alike remember fondly playing pond and rink hockey with Easton equipment.
Easton was a massive component of many players' games, but Bauer's Performance Sports Group bought Easton Hockey in 2016 after a court dispute. As a result, Bauer no longer manufactures equipment under the Easton brand name. They did, however, purchase the Easton name to continue manufacturing pre-existing Easton stick models since they were so popular and a Gretzky legacy. 
Easton Hockey was a well-known hockey stick and equipment manufacturer, with many players of all ages, including professionals relying on its products.
Initially supported by Wayne Gretzky, Easton quickly rose to popularity. Their sticks were the first to be made from aluminum instead of wood, and Easton Aluminum was the National Hockey League's first composite ice hockey stick. Hockey trousers, skates, elbow pads, shoulder pads, shin guards, and gloves were among the other items made by Easton.
Do Professional Hockey Players Still Use Easton? 
Selective professional hockey players still opt to play with Easton sticks. Although Easton sticks and equipment are not still available to the general public, this does not ally to NHL players. If sponsored by Bauer, a player can request to have an Easton stick since the old Gretzky favourite is still considered one of the best.
Bauer Vs Easton: Who Makes Better Sticks?
When it comes to today's stick technology, many elements must be considered, including flexibility, agility, and more. The Bauer stick Vapor line has long been one of the greatest quick-release hockey sticks on the market, but the Fly lite Grip Composite Stick shows how the company was keen to increase its stability and durability for 2019.
Bauer's expertise and commitment to improving the quality of their sticks year after year is undeniable. On the other hand, Easton has produced some of the top hockey sticks on the market throughout the years. The Z-bubble, Synergy line, and Stealth lines are just a few examples. Many of Easton's sticks have a unique elliptical taper that allows for a swift release.
What is the Best Bauer Stick Model?
The Bauer Supreme Ultrasonic is a stick explicitly designed for players who want to get the most power, energy transfer, and accuracy out of their stick. Thanks to a brand-new base, the Supreme Ultrasonic is the lightest Supreme stick yet weighing 390 grams.
This skate has asymmetrical Te-Xtreme technology in the shaft for faster passes and shots, as well as a lightweight carbon fibre blade for explosive shoots and increased durability. The Supreme Ultrasonic stick has grown in popularity to become one of the most popular on the market today.
What is the Best Easton Stick Model?
Wayne Gretzky helped bring Easton to fame when he swore by the quality and play of the HCP 1500 Easton Aluminum hockey stick. Compared to the wood sticks utilized at the time, the aluminum shaft provided strength, rigidity, durability, and lightness. However, the NHL eventually banned them due to their inability to break and the potential for causing severe injuries.
The Easton Synergy HTX is currently Easton's best stick on the market. The Tapered rib is designed to boost velocity off the toe, which adapts the blade's stiffness to each shaft flex to provide a more responsive blade. 
The blade's rockered base lets players load the blade by keeping the puck near the toe and lifting the heel off the surface. To a goaltender, players appear the same whether they're shooting from high or low.
Bauer Vs Easton: Who Makes Better Gloves?
The type of glove you require is determined by the level of hockey you play. If you only want to play shinny with your pals at the ODR or head out to stick and puck, an inexpensive one would suffice.
If you participate in a more competitive league, you're more likely to be slashed from time to time and should upgrade your gear. Bauer continues to develop its gloves with the latest, cutting-edge technology to increase comfort and play for more professional players.
Used Easton gloves are still easily found, but they will not feel as comfortable as new gloves. It's also worth noting that glove leather is more prone to odour than most other equipment. Since Easton no longer produces gloves, your second-hand ones may have seen their best days before you even get to wear them.
What are the Best Bauer Gloves?
Due to its traditional shape and design and many more contemporary features, the Bauer Nexus 2N Gloves are still among of Bauer's most popular gloves on the market.
The innovative sweat-wicking Inner Liner helps to keep perspiration away from the hands while playing. This combination also aids in the drying of the gloves when they are not in use, ensuring that they are ready for your next game.
The Nexus 2N's 3-piece Flex-Lock thumb enhances flexibility and reduces hyperextension by better fitting your thumb's form. With both comfort and protection in mind, these gloves work well for any and all players looking for a better grip on the ice.
Bauer Vs Easton: Who Makes Better Pants?
Bauer pants were worn by 37.8% of NHL players at the end of the 2020 season. The Supreme line is the most popular, with an anatomical fit, while the Vapor line is tapered, and the Nexus line is the roomiest, with a traditional fit.
CCM is the league's other leading pant brand, with 42% of players wearing them at the end of the 2020 NHL season. Bauer is the superior choice since Easton is no longer making equipment like trousers, and Bauer's equipment technology continues to progress daily.
What are the Best Bauer Pants?
Bauer developed the Vapor 2X Pro pant with flexibility and weight reduction in mind while still keeping the same level of protection as previous year's models.
Bauer's innovative Curv composite free-flex spine protection keeps your spine safe while weighing very little. These pants are also equipped with a rapid-drying lining technology and Bauer's Hyperlite HD foam for high-intensity impact in all locations.
On the other hand, Bauer's Supreme Ultrasonic pants are designed for maximum protection and agility. The Bauer Supreme Ultrasonic pant has a Pro-level 840D Nylon shell with extra overlays in high-wear areas for increased durability. Bauer has also inserted stretch regions to the inner thigh and crotch, allowing the legs to move freely and organically.
Bauer Vs Easton: Who Makes Better Skates?
When it comes to skate quality and comfort, Bauer takes the cake. Bauer has been known for years as a brand recognized for creating hockey skates tailored to the demands of every player. Bauer's Vapor skate series is designed for high levels of mobility and allows players to make plays using their agility, making it one of the best skates in the NHL. 
Unfortunately, Easton stopped making ice skates in 2016, resulting in die-hard fans acquiring second-hand equipment to keep the Easton brand alive. Although you can sometimes find an almost untouched pair of Easton skates that have been sitting in someone's garage for years, many pairs of these skates will be old and worn out with rust on the blades if they haven't already been skated in until worn.
What are the Best Bauer Skates?
The Bauer 2X Pro Vapour skates are manufactured with serious hockey players in mind. These skates are designed for played who require equipment that moves, bends and adjusts to their gameplay. 
The updated and enhanced Vapor 2X Pro model comes with a slew of additional features that come together to provide an outstanding package. Many players who have tried these skates say they provide a far greater level of performance than any other Bauer Vapor product.
On the other hand, Supreme Ultrasonics are another popular Bauer model among NHL players. The Supreme Ultrasonic is the ultimate performance skate for elite players, focusing on power and maintaining control. The lower section of the boot is stiffened by a 3D Curv composite paired with a unibody sole, allowing each push to develop toward maximum energy transfer and quicker straight-line speed.
A titanium coating on the blade improves edge retention and grip, allowing players to retain pace while keeping consistency. Bauer's most supportive boot, the Ultrasonics' Flex Rating, delivers remarkable stability for the elite.
Bauer Vs Easton: Who Makes Better Helmets?
Head protection is considered one of the best things you can invest in as a hockey player. With all the hard hits and falls you'll take, you'll want to lower your chances of getting concussions as much as possible. Luckily, Bauer produces helmets with safety as the critical factor in their manufacturing process. 
The RE-AKT 200 helmet, for example, is lined with multi-density foam and sophisticated moulded foams to mould to your skull and give optimal protection and comfort. Bauer helmets also add an added layer of safety by allowing you to customize the fit. The moldable Bauer Fit-Plate lock will enable you to custom fit your helmet to your skull for added protection.
Choosing a Bauer helmet can help protect you and your brain in the long run from both concussions and more serious brain damage.
What is the Best Bauer Helmet?
The Bauer RE-AKT 200 hockey helmet is equipped with cutting-edge technology to keep your head safe and comfortable while out on the ice. Hockey players need to take the shock and absorb all kinds of hits, as a result, Bauer employed their RE-AKT helmets with new technology to allow the liner to move independently from the inner foam of the helmet.
This means that the lightweight foam technology absorbs both high-energy and low-energy impacts. This helmet is also equipped with moisture channels to keep players' heads cool during play.
The RE-AKT 75 helmet is another famous Bauer helmet model. For improved comfort and enhanced protection against even the worst impacts, this helmet blends Extreme Impact Protection foam with a suspended liner system. The RE-AKT 75 also comes with a profile III facemask made of stainless steel with an oval wire for better viewing.