Bauer hockey skates come in a variety of models and styles ranging from professional to recreational. However, when comparing the Bauer Supreme to the Vapor skate models, it's all about the fit. The Vapor hockey skate is best suited to narrow feet, while the Bauer Supreme hockey skate is most suited to standard-sized feet.
Continue reading to discover more about the differences between the Bauer Vapor and Supreme skate lines, why they're popular, and which skate you should pick to improve your skating skills.
What is Bauer?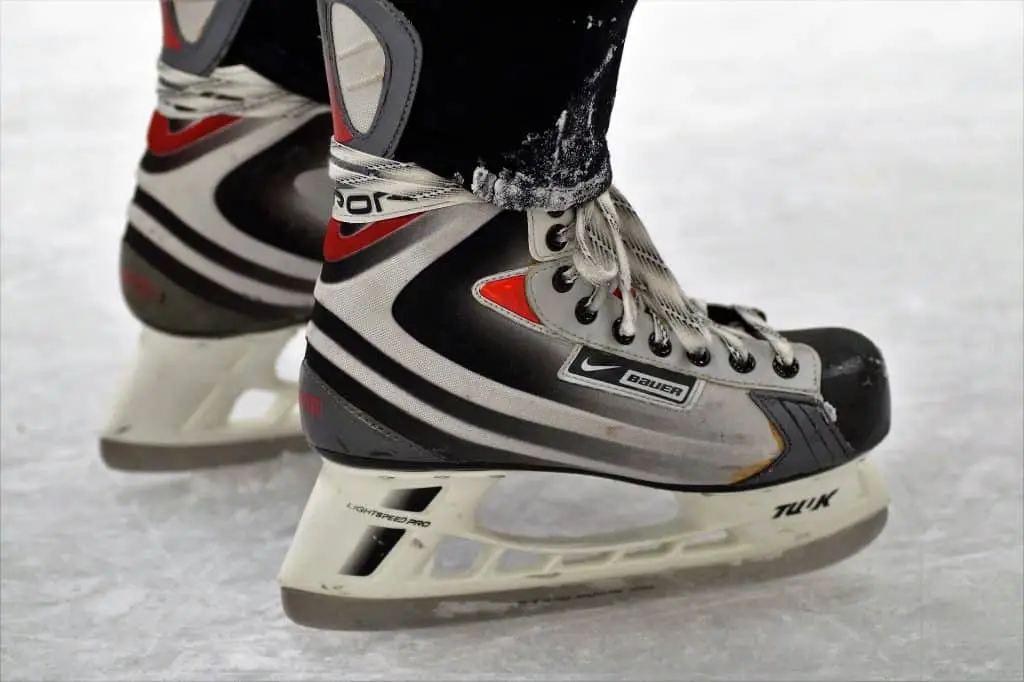 Bauer Hockey manufactures ice hockey equipment, fitness, and recreational skates. Bauer also offers goalkeeper equipment, sticks, gloves, shin guards, helmets, pants, elbow pads, hockey jocks, shoulder pads, and compression underwear. For over a century, Bauer has been inventing and producing high-quality hockey equipment to help athletes and games grow.
Bauer continues to achieve new technical heights year after year to give hockey players the maximum gear edge while staying one of the leading ice hockey category leaders. Bauer has been producing lighter protective gear that nevertheless provides the finest protection to athletes for years. The athlete may execute at a greater level without fear of equipment failure due to the mix of lightweight and safety provided by Bauer gear.
Why is Bauer a Reliable Skate Brand?
Bauer has been creating and manufacturing high-quality hockey equipment for almost a century to better both the athlete and the game.
Bauer, simply put, has made a reputation for itself in a variety of ways. Bauer has a long history of being known for its innovative spirit. They began by attaching blades to boots and have advanced to the most cutting-edge hockey equipment available. The company has grown and changed since its start in the early twentieth century.
What is the Bauer Vapor Skate Line?
The Bauer Vapor Skate Line was created to optimize quickness and agility in a way that no other skate has done before. The Vapor line helps athletes burst beyond the competition and into a whole new level of performance with innovative weight reduction and crucial flex zones.
The Bauer Vapor 3X Skate, for example, was created for hockey players who want a high-performance skate with maximum agility without the hefty price tag. The new 3D Flex Composite boot is not only lighter than the previous model, but it also offers more support and rigidity to help you win the next sprint to the puck.
Why is the Bauer Vapor Skate Line So Popular?
Vapor skates are designed for speed, with the lower half of the skate being softer for better reaction and the top half being stronger for better lateral support. The Vapor has a lower kick point to optimize agility and speed, making it excellent for rapid skaters.
Bauer's skate fitting technology lets players select skates based on their own foot measurements rather than a skate line. As a result, slender feet are ideally suited to the Vapor hockey skate. Vapor skates have a tapered fit that includes a regular toe box, a slightly smaller forefoot, as well as a thin ankle and heel area.
What is the Bauer Supreme Skate Line?
The Bauer Supreme skates weigh as little as 500 grams per skate, including the frame, deck, blades, and a somewhat less rigid boot. This gives the Supreme skate line the best blend of support and freedom of motion, which essentially makes it ideal for players who seek the benefits of a heavier shaft in a lighter boot.
The new Bauer Supreme 2S Pro, for example, combines excellent performance with maximum comfort. The Bauer Supreme 3S Pro skates are made for professional hockey players who desire a skate that was created for maximum skating power. 
Why is the Bauer Supreme Skate Line So Popular?
Supreme skates feature an Anatomical fit, which means they're medium in size from the heel to the toe box. The 2S Pro skates' most distinguishing characteristic is that they have modest outward protrusions at the top of the skate to allow your ankle bones to be firmly secured into position inside the skate. Supreme skates ensure that the athlete continuously expands and offers a complete stride.
Jack Eichel of Buffalo, Alex Galchenyuk of Arizona, and David Backes of Boston are among the NHL players that wear Supreme skates.
Bauer Vapor Vs Supreme
Ice skates that fit properly are critical to ice skating success. Considering players' feet have diverse forms, choosing the right skate for them is critical. Bauer Hockey's Vapor and Supreme lines both provide alternatives for finding the finest pair of skates for you and your skating ability.
The Vapor line, which is red, has a small width, but the Supreme skate, which is yellow, suits an average-sized foot. Vapor skates are available in various price ranges, ranging from $99.99 to $900, depending on the model. On the other hand, Supreme versions range in price from $79.99 to $720.
Is The Bauer Vapour or Supreme Better for Speed?
The Bauer Vapor skate series has features that make it the ideal skate for speed and agility. The Vapor 2X Pro is designed for low-profile feet and features Bauer's Dynaflex System for maximum performance and to take their premier low-volume skate to the next level.
The Vapor 2X Pro has an asymmetrical toe cap that reduces overall skate volume and improves striding. Bauer's Vapor skate series comprises lightweight skates that feel like an extension of your foot which is designed for exceptional speed.
Is The Bauer Vapour or Supreme Better for Comfort?
Since its introduction in 2004, the Bauer Vapor line has been the most popular in the series for comfort. Its tiny heel and traditional toe box are ideal for people who have flat, low-volume feet.
The close-fit heel reduces the amount of room in the boot around the ankle, increasing speed and performance. The Bauer Vapor ice hockey skates are designed for speed and are ideal for speedy and shifty forwards as well as nimble attacking defensemen.
Is The Bauer Vapour or Supreme Better for More Intense, Professional Hockey Play?
Bauer skates are used by 60% of NHL players. The Supreme 2S Pro is the most popular Bauer skate in the NHL, with about 20.0% of players skating on them. The Vapor 2X Pro is also chosen by 15% of players, while Vapor HyperLites are selected by 10% of players with more narrow feet.
What Are the Bauer Supreme and Vapor Skate Lines' Distinctive Performance Characteristics?
The Bauer Supreme has a redesigned flexible tendon guard and torsional soft upper flex point to promote mobility and range of motion. On the other hand, Vapour skates have a supporting tendon guard for increased agility.
The Supreme's power boot cut delivers enhanced wrap for better foot stability and support, with a symmetrical taper to assist load energy into your stride. In contrast, Vapour skates offer an agile boot cut that maximizes acceleration and speed.
What Are the Best Bauer Vapor Skate Models?
Bauer's Vapor Hyperlite Skates
The Bauer Vapor Hyperlite skates are sweeping the NHL by storm, popping up and being seen more on players' feet both during regular seasons and in the playoffs. In the past, only smaller feet could fit in these Vapor models.
However, Bauer's Vapor Hyperlite skates include innovative 3D Skate Sizing technology, which allows you to fit any foot into these Hyperlite models. The Hyperlite innovative HyperFlex technology maximizes flex in the boot exactly where you want it, allowing you to put the best power down on the ice and out-skate your opponents for all three periods.
Bauer's Vapor 3X Skate
The Bauer Vapor 3X Skate was created for young hockey players who want a high-performance skate with optimum mobility without paying a hefty price. The new Digi Comp boot is not only lighter than its predecessor, but it also provides the increased support and rigidity required to win the next sprint to the puck.
What Are The Best Bauer Supreme Skate Models?
Bauer's Supreme UltraSonic Skates
Bauer's Supreme UltraSonic skates are made for hockey players with a dynamic and elegant skating style. These skates are incredibly comfortable and are built to perform at a high level. The Supreme UltraSonic is our ultimate performance skate, intended to enhance power and control for elite players. The UltraSonic skate's overall design and construction aim to increase the range of motion for a more powerful stride.
A reflex tendon guard and tongue are also included in the Supreme UltraSonic skate model, which works together to increase the range of motion. These characteristics, in turn, improve the length and strength of each step. Bauer's most supportive footwear, the Ultrasonic skate, delivers excellent stability for professional skaters.
Bauer's Supreme 3S Skate
The Bauer Supreme 3S Skate is designed for severe and competitive hockey players who want top-end speed and power. Players with narrow, medium and large feet will all be able to find their optimal fit with Bauer's new Performance Fit System.
Bauer's Supreme 3S Skates come fully equipped with a unique 3D-lasted flex composite thermoformable boot to tap into a more natural range of motion to glide around the ice with ease.