CCM and Bauer are two of the most dependable ice hockey manufacturers, producing everything from skates to sticks, gloves, leggings, helmets, goalie equipment, and more. Since both of these brands are heavily advertised and used by NHL players, consumers can be confident that they will receive high-quality products regardless of which brand they choose.
Continue reading to learn more about the two leading brands of the NHL, why both CCM and Bauer are considered reliable, what they make, and who makes better sticks, skates, pants, and more.
CCM vs Bauer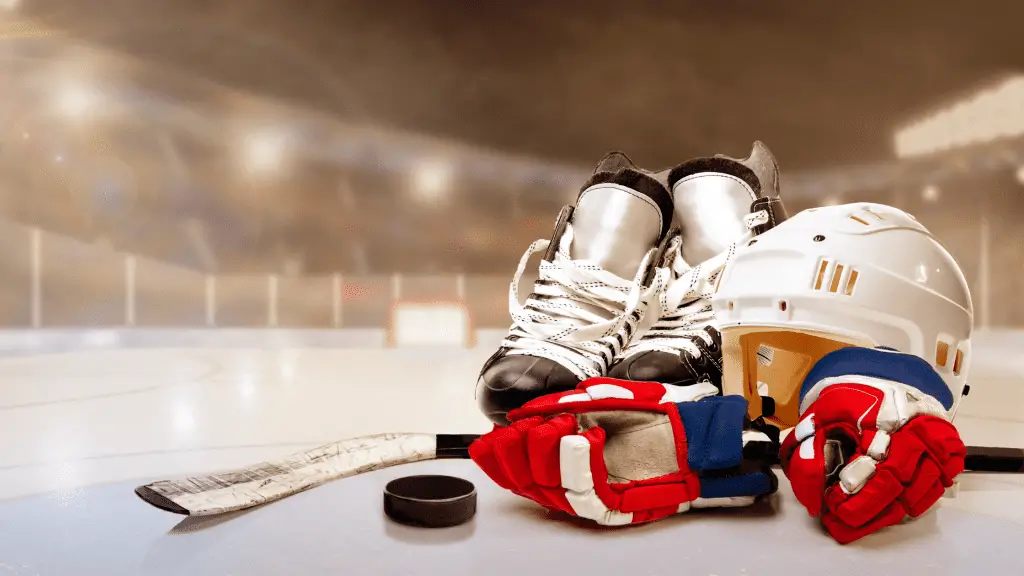 CCM and Bauer are both titans in the hockey market, making it challenging to choose which brand and equipment to invest in. While Bauer primarily supplies the NHL with equipment, CCM is the league's official clothing and apparel provider. Since both companies have strong professional backing, you can anticipate high-quality equipment that will help you improve your game. 
What sort of equipment you're looking for will determine which brand is preferable. While Bauer skates are regarded as superior to CCM's, CCM's shoulder pads are seen as superior. Since each piece of equipment and model series is unique, it's preferable to avoid brand allegiance and focus on figuring out what works best for each piece of gear.
What is CCM?
Reebok-CCM Hockey is the world's leading producer of hockey equipment and the official provider of jerseys and clothing to the National Hockey League. Although the initials represent the firm's beginnings in bicycle and vehicle manufacture, the CCM corporation has been around for more than a century.
According to Reebok-CCM, it is the world's leading manufacturer of hockey equipment and gear, and it outfits more professional hockey players than any other firm. The NHL and the two leading minor leagues, the American Hockey League and the East Coast Hockey League, use it as their official outfitter. The firm is headquartered in Montreal and operates in both North America and Europe.
What Hockey Gear Does CCM Manufacture?
The CCM brand is recognized for producing a broad array of hockey equipment. This includes sticks, skates, helmets, pants, gloves, pads, and gear bags. Reebok-CCM manufactures and distributes licensed gear such as T-shirts, replica jerseys, caps, and other items in addition to authentic NHL game jerseys. CCM also produces recreational ice skates, roller hockey equipment, and cold-weather performance clothing.
Do NHL and Professional Hockey Players Use CCM?
Hockey icons like Mark Messier and Paul Henderson, as well as current NHL superstars like Auston Matthews from Toronto, Connor McDavid from Edmonton, Sidney Crosby from Pittsburgh, Alex Ovechkin from Washington, John Tavares from Toronto, and others, have all supported CCM.
The Ribcor line from CCM is still a favorite among NHL players. Goalies worldwide dislike the low kick point because it results in a rapid, quick release that players adore. CCM's Ribcor brand of hockey sticks is utilized by 12.7 percent of NHL players.
What is Bauer?
Bauer has been manufacturing and designing high-quality hockey equipment for almost a century, with the goal of improving both the athlete and the game.
Simply said, Bauer has established a name for itself in a number of ways. Bauer has long been known and recognized for its drive for innovation. They started with blades attached to boots and have progressed to the most cutting-edge hockey gear available. Since its inception in the early twentieth century, the firm has continued to expand and adapt.
What Hockey Gear Does Bauer Manufacture?
Bauer Hockey is an ice hockey equipment, fitness, leisure skates, and apparel maker. Bauer makes goaltender equipment, as well as sticks, skates, helmets, gloves, trousers, shoulder pads, shin guards, elbow pads, hockey jocks, and compression underwear.
Do NHL and Professional Hockey Players Use Bauer?
Almost every NHL player wears at least one piece of Bauer gear. Even seven out of ten professionals skate on Bauer skates. Due to the launch of the new Vapor APX model, Bauer was the main hockey stick provider for the league's players when the puck dropped for the current NHL season, beating out competitor CCM.
Steven Stamkos of the Tampa Bay Lightning, Jack Eichel of the Buffalo Sabres, and Alex Galchenyuk of the Arizona Coyotes are all known to skate on Bauer Supreme 2S Pro skates. The Arizona Coyotes' Alex Galchenyuk also uses a Supreme 2S Pro stick. Bauer Nexus sticks are designed for players who want a balanced feel, easy release, and lethal accuracy.
Does Bauer or CCM Make Better Skates?
When comparing CCM to Bauer skates, you'll see that both skate brands are considered well-known and popular. In fact, trying to figure out which model of which brand would be the best fit for you might be daunting. Although, when comparing Bauer vs. CCM skates, both will provide you with outstanding skate quality and will perform well.
However, Bauer skates are preferred by 70% of NHL players, while CCM skates are preferred by a little under 20%. While all Bauer skates are of high quality, there are some variances. Bauer is typically regarded as the premier brand of hockey skates since they adapt the fit of their skates to the player's foot. 
Bauer's Vapor line, for example, is designed to be a low-volume, slimmer fit for starters. These skates have a regular toe box and a tapered fit. The Supreme line, on the other hand, has a more medium fit, making them more anatomical in both the toe and heel, giving you a more natural feel.
Does Bauer or CCM Make Better Sticks?
Many factors must be addressed when it comes to today's stick technology, including flexibility, agility, and more. Bauer's Vapor stick series has long been regarded as one of the best quick-release hockey sticks available, but CCM's new Ribcor Trigger is going to give them a run for their money.
Bauer's knowledge and dedication to further enhancing the quality of its sticks are obvious. However, CCM has also consistently created some of the best hockey sticks on the market, and the CCM Ribcor Trigger ASY is no exception. For a player seeking a superb low-kick point stick, CCM's Ribcor Trigger ASY features an outstanding puck feel, incredible shooting power, and accuracy, as well as remarkable longevity.
Does Bauer or CCM Make Better Helmets?
Helmets are unquestionably one of the most significant components of hockey equipment. Your hockey helmet might be the difference between a quick trip to the ER and a trip to the hospital. To avoid concussions, you'll need the best hockey helmet available.
With a sleek and more customizable design, the Bauer RE-AKT 150 is the greatest hockey helmet you can buy right now. The helmet's structure is excellent, and it will provide you with the most satisfactory possible protection. However, leading NHL players also support CCM's FL90 Helmet.
The CCM FL90 Helmet provides everything high-intensity players need, from the two-piece shell to the high-density foam lining and comfort padding for excellent comfort and protection.
Does Bauer or CCM Make Better Pants?
By the end of the 2020 season, 37.8% of NHL players were wearing Bauer trousers. The Bauer Supreme pant line is considered the most popular hockey pant, with an anatomical fit, followed by the Vapor line, which is tapered, and the Nexus line, which is roomier and has a classic fit.
CCM is considered the second most popular trouser brand in the NHL, with 42% of players wearing them at the end of the 2020 season. For those who desire to play like their favorite NHL player, the CCM JetSpeed FT350 hockey trousers are ideal.
The lightweight structure of these hockey trousers is combined with a medium external belt for a game-winning fit. The JetSpeed FT350 incorporates plastic inserts that bend and flex without failing to give improved ice protection.
Does Bauer or CCM Make Better Shoulder Pads?
Hockey shoulder pads are not something to skimp on when there are pucks whizzing around the rink, players rushing to hit you, contact with the boards, and ice looming every shift.
Most top-tier shoulder pads today will undoubtedly provide excellent protection, but CCM has taken various steps to improve its shoulder pads and create the JetSpeed FT1. With three different foams, adjustable bicep protectors, and the flexibility to remove sections of the pads depending on your needs, the JetSpeed FT1 shoulder pads are a one-size-fits-all solution that works remarkably well.
Does Bauer or CCM Make Better Gloves?
On the rink, the protection, flexibility, and comfort of the gloves worn by players can significantly impact their performance. Although both brands manufacture a selection of solid glove models, Bauer gloves are more popular with professional players than CCM gloves.
With the Supreme 2S Glove from Bauer, you get the whole package. These gloves combine protection, flexibility, and quick-trying technology in a light and comfortable design. User reports reveal that the Ax Suede Quattro pro palm is one of the best-feeling palms ever offered on a glove. The Super Tacks AS1 and JetSpeed FT1 are two CCM glove types that are known to be reliable.