Both Graf and Bauer are considered highly reputable ice hockey brands that manufacture professional skates. While Graf is regarded as a more international brand compared to Bauer, both are considered outstanding and used by professionals and NHL players alike. As both are considered professional, reliable brands, your choice in skates must come down to personal preference.
Continue reading to discover more about both Graf and Bauer hockey brands, including why they are considered reputable, what professionals they sponsor, and the best models from both the Graf and Bauer Hockey Skate brands.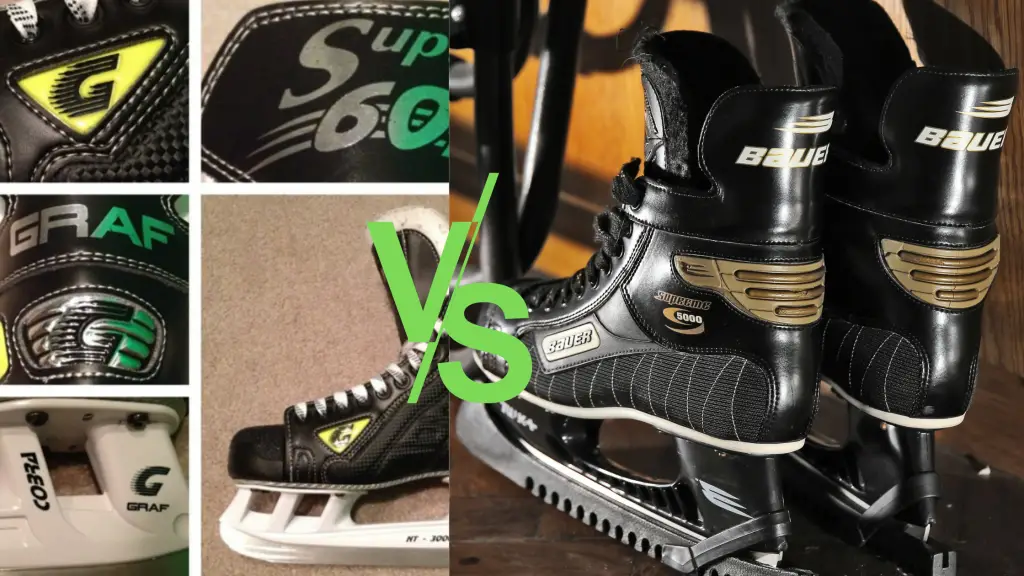 What is Graf?
Graf Hockey has been the preferred brand of both pros and amateurs for decades. Considered an offshore brand in North America when compared to more local retailers like Bauer and CCM,
The high-quality construction of each Graf skate ensures pure skating precision and comfort even at the most significant performance levels. Graf Skates manufactures 85 percent of its skates in Switzerland, which are sold all over the world, with Russia, Scandinavia, and Germany being among Graf's most important markets.
What Does Graf Manufacture?
Graf skates are handcrafted in Kreuzlingen, Switzerland, with views of the magnificent Lake Constance. Graf, founded in 1921, has provided skates to several A-Level teams and has built a solid name over the years because of its high-quality skates and unrivalled expertise.
How Do Graf Skates Fit?
Graf skates should be bought one size smaller than your typical shoe size. If possible, try on a few Graf skates to ensure you purchase the correct size. One should note that Graf's skates might also be difficult to size since most sizing is not done according to US standards.
Why is Graf Considered Such a Reliable Brand?
Graf skates are regarded as trustworthy since they are designed for optimal comfort, protection, and durability when playing a more professional version of ice hockey.
What Professional NHL Players Use Graf Skates?
Matt Niskanen, Antti Niemi, Cam Ward, Carey Price, Josh Harding, David Booth, Pekka Rinne, Paul Stastny, Dennis Wideman, and Tuukka Rask are among the professional hockey players that have used and continue to utilize Graf skates.
What Is Bauer?
Bauer Hockey is an ice hockey equipment, fitness and leisure skates, an apparel maker. Bauer makes practically all types of hockey equipment, including helmets, sticks, skates, gloves, shin guards, shoulder pads, trousers, elbow pads, hockey jocks and compression underwear, and goaltender gear.
Bauer primarily designed and manufactured ice hockey skates until 1990, when Cooper Canada Ltd's hockey business was purchased.
Why is Bauer Considered Such a Reliable Brand?
Simply said, Bauer has created a reputation for itself in a variety of ways. The first is the company's passion for innovation, which is the most long-lasting. They began with blades affixed to boots and have developed all the way to the most cutting-edge hockey equipment available.
Celebrity endorsements were the second element. Professional hockey players endorsing your product and using it in games says a lot about the quality of what you're making.
Finally, because it has been around for so long, Bauer has remained at the top of the hockey world. The firm was established in the early twentieth century and has continued to evolve and expand throughout time.
They've been adaptable enough to accommodate the shifting demands of gamers, and they're constantly updating what they have to offer. Take, for example, their new fit system. Bauer substantially redesigned their fit method, giving skaters with wide feet more options and preventing them from having to buy skates that do not perform at their level only to meet their foot size.
How Do Bauer Skates Fit?
Bauer hockey skates are typically 1 to 1.5 sizes smaller than the size of your shoes. It's perfectly fine to order a half size larger for youngsters to accommodate growing feet. However, wearing skates any larger may create blisters causing pain in your little one.
Do Professional Hockey Players Use Bauer?
At least one Bauer item of equipment is worn by almost 90% of NHL players. Bauer skates are worn by seven out of ten people. Bauer was the leading hockey stick provider for the league's players when the puck dropped for the current NHL season, edging out competitor Easton owing to the launch of the new Vapor APX model.
Bauer or Graf Hockey Skates: Which is Considered Better?
When evaluating which hockey skate brand to get, one must consider a multitude of factors, including the materials used, comfort, agility, and flexibility.
Performance plastics and other synthetic materials are commonly utilized in hockey skates, with high-density polymers used for the "last," or the bottom of the skate that determines the shape. As you increase your budget, you'll find hockey skates made of more modern materials and technology that improve protection, comfort, weight, and durability.
High-tech materials guarantee a snug fit and a lightweight skate that can endure the punishment that comes with frequent play in elite-level hockey skates, which are developed for the most serious players. 
The Bauer Vapor skate line, for example, is made using Bauer's unique Curv Composite material, which is 3D-lasted for a precise boot shape, as well as a thermoformed X-rib pattern in the quarter package which produces a tighter fit in the heel and ankle.
On the other hand, Graf skates have a Peakspeed Lightning Flex-Fit Two-Piece Microfiber and Brushed Nylon Inner Lining. This improves sweat absorption and heat retention within the skate.
What Are the Best Graf Skate Models?
Graf's Peakspeed Models
Graf's Peakspeed Lightning skate series exemplifies the company's cutting-edge technology and design.
Graf's Peakspeed skate is the ultimate choice for those who demand only the best. The Peakspeed stands out thanks to its exceptional performance, comfort, and protection that even the most ardent pro players require. A Peakspeed comprises approximately 70 separate pieces that have been painstakingly selected or created.
More material is used on the inside of the boot, where the majority of the force from the leg is passed to the skate, thanks to the asymmetric upper structure. Graf employs light, highly robust composite materials for Peakspeed's insoles and outsoles.
The lining of the Peakspeed collection is constructed of comfortable, breathable nylon velours on the upper half and durable Flex Grip microfiber on the lower half. All Peakspeed skates also include a Flexfit collar to avoid leg friction injuries so you can focus entirely on the game. 
Graf's Peakspeed Goalie Models
Graf also has three goalie models: the JR/G, SR/G, and PRO/G, all of which are part of the Peakspeed Goalie line.
Mike Vaughn, the proprietor of Vaughn Custom Sports, and his staff were instrumental in constructing Peakspeed's new goaltender lineup as NHL goalkeepers were very interested in their knowledge and considerable experience in manufacturing goalie equipment.
The most significant difference between the PRO/G and previous GRAF goalkeeper skates is the absence of a cowling. Graf's top-of-the-line ULTRA 5000 holder molds were recycled and tweaked to match the demands of goalkeepers to achieve this.
The goalie edition of the ULTRA 5000 has a 30-foot radius and a unique Steel Circle anchor. Weight decrease and a narrower skate, which improves the maximum angle of attack before the inner foot touches the ice, are the two most important advantages.
Graf's Supra G Models
Graf's Supra G models are top-of-the-line skates for seriously speedy hockey players. The Supra G variant is only available in Europe and is fully equipped with new 3D-formed Purlyn quarter panels. These panels provide the Supra G skate with 30% lighter quarter panels allowing for better agility and flexibility.
With the professional skater in mind, Graf also equipped this skate with lightweight memory foam ankle pads. These pads ensure the skater has the best quality ankle protection.
Overall, Graft's Supra G hockey skates are considered a more professional skate for more senior players.
Graf's G755 PRO Model
Graf's Pro G755 skate, based on their 735 models, is only available in North America. The G755 come fully equipped with an upgraded protective plastic cover on the forefoot of the skate. This added layer of protection not only protects and supports players but also improves the longevity of the skate. Graf has also designed this skate with more room in the boot for your feet and toes, while the heel is a little tighter.
Another factor that draws consumers to the G755 skate model is that these skates are incorporated with an extra thick tongue for comfort support and foot retention. With Graf's new heat-moldable technology, this flex tongue retains the foot in the players skate better than any other pair of hockey skates.
Most people assume that the Graf G755 Pro skate model is a traditional skate, but they would be wrong. The G755 is custom designed with new concepts to improve the skating of even the newer hockey players. With precision blades and exquisite flexibility, these skates are perfect for anyone looking to up their game.
What Are the Best Bauer Skate Models?
The Vapor X Model by Bauer
Based on the previously fast Bauer X800, the Vapor X Shift Pro skate model is designed for those looking for a more professional, high-performance skate. This skate is designed with a Flex-Lock and Pro Stock tongue, which can be found in the previous X900 model. This intricate tongue included in the Vapor allows for a more tight, secure fit resulting in a better forward flex.
Bauer's Vapor 2X
The Bauer 2X Pro skate is perhaps one of the best quality Vapor skates made by Bauer. The Vapor 2X comes enhanced with out-of-the-box comfort, head-turning visuals, and a slew of new functions.
The Vapor 2x is fully equipped with a reduced volume asymmetrical toe cap which improves the fit of your skate and leads to better push-off with each skating stride.
Bauer also made a daring step with the Vapor 2X Pro skates, opting for bolder hues. A yellow color pop is added to the mix, as well as a lighter silver coloring on the rear of the skate.
Bauer's Vapor 1X Hockey Skates
Bauer introduced the Vapor 1X in 2017 to commemorate the 20th anniversary of the Vapor skate family. The original Vapor skate ushered in a shift in how ice skates were produced. It was a game-changer in terms of weight reduction and design. When the skate first came out, players were flocking to it because it was so light, even if it wasn't necessarily the ideal fit for their foot.
Fans of the Vapor fit will be thrilled with the out-of-the-box comfort, which builds on the previous Vapor model's enhanced fit through the heel and slightly bigger volume through the toe box.
One of the most typical fit profiles for players searching for the right fit is the 1X, which has a narrow fitting heel a mid-fit across the instep. Each hockey player's feet are different, but Bauer's fit profile for the Vapor family has shown to be successful.
Additionally, Bauer's Curv composite allows one to readily alter any particular requirements, such as protruding navicular bones and heel spurs, by spot heating and punching.
Bauer's Vapor X300 Hockey Skates
The Bauer Vapor X300 Skates has a sophisticated design that distinguishes them from other ice hockey skates. The ice skate's shape works well with your feet, making it a popular choice among serious ice hockey players.
These skates have a tailored feel, making them unsuitable for wide-footed consumers. Also, when putting on the Vapor X300's, avoid wearing thick socks. Light socks are required because of the small V-fit around the ankle and heel.
Your skates must allow your feet to breathe. Blisters will develop on your feet if you wear heavy socks. Since it's not available in other ice skates, the Vapor X300's narrow fit is a standout feature.
The Vapor X300's fit allows you to accelerate and turn swiftly, giving you a slight advantage in the game. The majority of people who bought these skates for their children were pleased with the results. Some parents even claimed that their child's hockey game abilities improved dramatically after using these Bauer ice skates regularly.