I had to ship my former housemate's hockey stick to him since he forgot it when he moved to a different state. I just told him to buy a used one or even a brand new one, but no, he insisted on getting his stick back. What could I do?
You guessed it. I ended up being a softie and shipped it back to him. I thought it would be complicated, but it's actually pretty easy. Bubble wrap and USPS Retail Ground Service rate are the best combination! To find out how I did it, read on.
Should I Ship the Hockey Stick in a Box?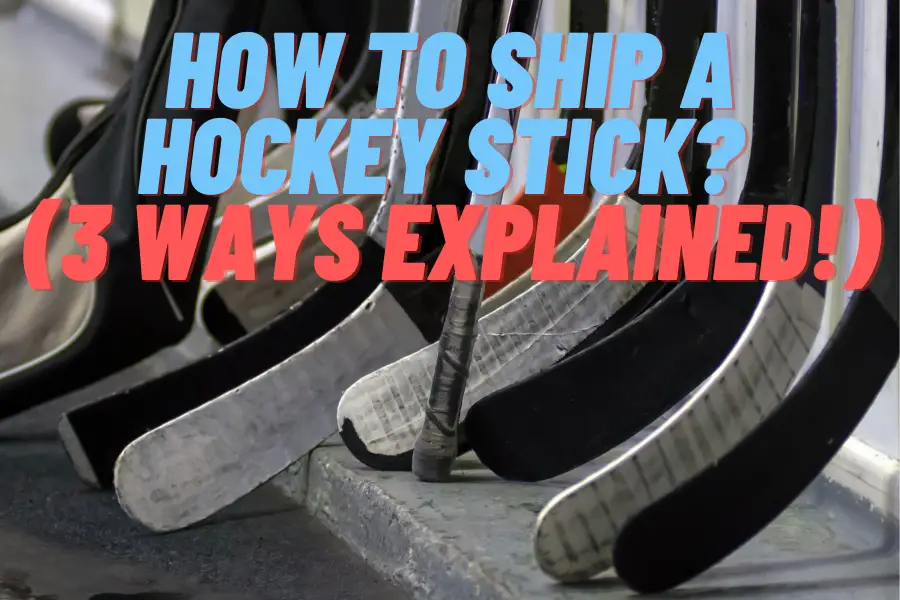 There are some ways to get a box that is designed for shipping a hockey stick. One obvious choice is your local hockey store, since they receive shipments of hockey sticks every day. Some hockey stick boxes are designed to carry multiple sticks, so the special boxes they carry might be good enough for one stick. 
If they're out of boxes, it's probably not worthwhile looking around for such a specific box, as we'll address reasons why bubble wrap is better below, or simply use a hockey stick bag. 
However, if you're really keen on ordering your own hockey stick box, here's a website that supplies them. Another idea is to use ski boxes, if you can find any. 
My hockey friends told me, though, that using a box costs more than simply wrapping the stick, because the box adds extra dimensions, which the post office or courier service uses to calculate postage. They would add an irregular box shape fee.
Also, since the stick would move around within the box, you'll have to secure it somehow by adding bubble wrap around the stick (which you can do without the box anyway). Or, you would have to tape the stick to the cardboard inside, or use filler like shredded paper, packing peanuts (made of styrofoam or starch), or air pillow film. A lot of work!
While this idea of using a cardboard box sounds commendable (and proper for tidy folks), there's a better way. It's bubble wrap. 
Should I Ship the Hockey Stick in Bubble Wrap?
I did, when I sent the ship back to my friend across three states. I did the research on cardboard boxes, and dismissed the idea. Instead, I just bought bubble wrap from my local office supplies store, which has a lot of packing stuff.
Some people say to place the stick in a large plastic garbage bag, and tape it tight, in order to make it waterproof. I didn't see the point, but it was my friend's hockey stick, so I didn't want the hassle of him complaining later on if it got wet during transit. 
I ended up using two heavy-duty plastic bags because the stick was so long, so I placed each bag at one end each. Then when the bags met in the middle of the hockey stick, I just rolled my packing tape round and round to seal off any openings and to tighten the bags around the stick. 
Instead of large heavy-duty garbage bags, you could use stretch wrap, the wide kind of sheet plastic people use to wrap furniture. Also, if you're sending a few sticks instead of just one, you could tape the sticks together, all lying down in the same direction. 
One important piece of advice, though. Put the shipping address label on the inside, secured by the wrap. That's just in case the outside shipping address peels off or gets smudged. Anyone who can no longer figure out the destination can just unwrap it again, and find the right address. 
I got the bubble wrap and wrapped it all around using a box cutter, actually it was pretty easy if you use a lot of packing tape (also called package tape or industrial tape). You could even see through some of the bubble wrap and figure out it was a stick. 
I figure seeing the stick underneath the wrapping is good, because the handling guys will see it and be extra careful with it. Then be sure to add another shipping label on the outside, because that's what the handlers will see. 
What About Using Hockey Stick Bags?
Yup, that's another possibility. Those bags don't have a lot of padding, so you're best to use enough bubble wrap to get it to fit inside the hockey stick bag, and then zip it up. 
I didn't have a hockey stick bag, and I wasn't going to buy one just for the sake of delivering it to my friend, but it's an option if you have one. Just realize that you're not getting that specialty bag back, unless you're delivering to yourself because you're moving or traveling.
[amazon bestseller="Hockey Stick Bags" items="3″ template="table"]
What Postal Service Should I Use?
U.S. Postal Service (USPS) will take a well-wrapped hockey stick and apply the Retail Ground Service rate, which is quite reasonable. (The stick would be hard to load onto an airplane if you used Priority Mail Service). 
You could also take the wrapped hockey stick to UPS, FedEx, or other national courier companies.
Whichever shipping company you use, it might be worthwhile to get shipping insurance, which protects against loss or damage. 
I knew I was shipping to my friend, and I honestly thought his hockey stick was kind of beat up (but still in great shape). But I figured I'd come off with peace of mind if something happened, so I got the insurance.
In the meantime, get the tracking number and take care to guard it! I even snapped a shot of the packing slip and sent it to my friend, as I knew he'd be far keener to track it than I was.
Conclusion
There you go—several options to ship your hockey stick. I think the take-away here is, keep it simple, which in turn will help you lower your shipping cost. My friend said he'd pay for the shipping, but I knew that we too easily forgive each other's debts when it's all said and done. 
I managed to get the chore done at minimum fuss and cost. I hope it works out for you too!