I have a wide head, which is why a regular-shaped hockey helmet hurts at my temples. Trust me, you don't want to stick with a badly fitted helmet for too long—it causes headaches and you're just trying to have a good time playing hockey.
Maybe your head shape is different from mine, but the point is, how to get a hockey helmet that's the right size. Let's see what we can do!
The Most Likely Reason Your Hockey Helmet Hurts?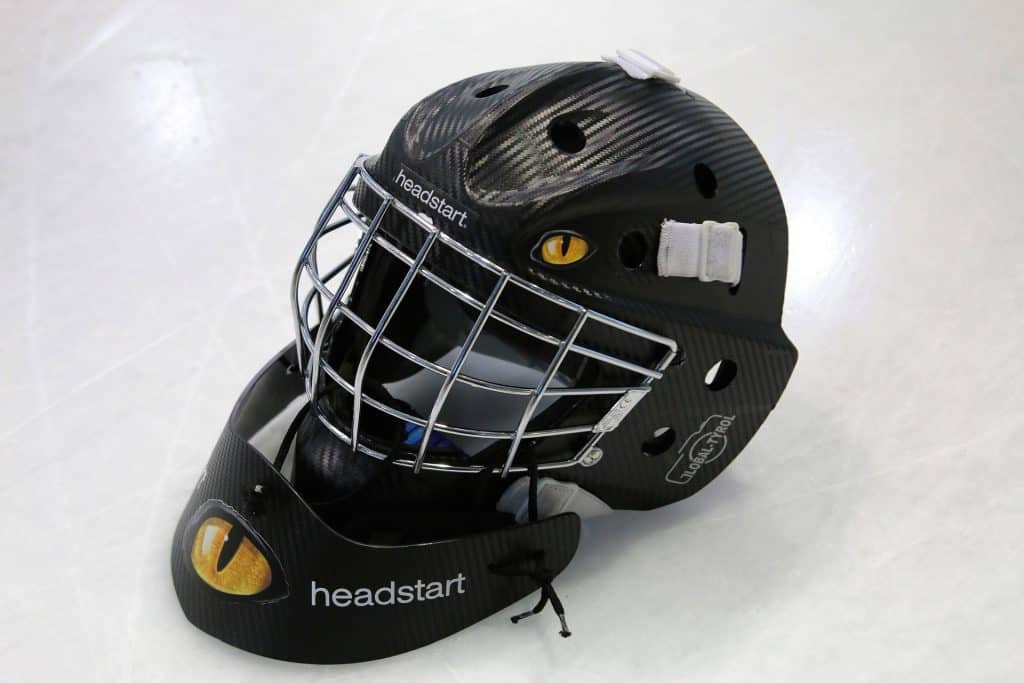 In one short answer—head shape. Imagine the challenge of designing a hockey helmet to fit millions of hockey players—all with varying head sizes and shapes. 
When I jumped back into one of my childhood passions, ice hockey, I had to start from scratch. I bought second-hand hockey gear from a used sports equipment store, Play It Again Sports. (I wanted to save money!) 
However, I was bummed out about my used hockey helmet. When I first tried it on in the store, it seemed like a good fit. But after an hour of playing hockey, it hurt like heck and my temples pounded like a vice gripped my head. 
I decided to start over and put a little more money into buying a brand new helmet, and here's how I figured it out.
Everyone's head is unique. 
This website explains pretty well how to check out the size of the helmet, using a handy chart. It says how to measure your head for fitting a helmet, like how you use a cloth or plastic measuring tape (also called tailor's tape) around your head. 
If you don't have a tailor's tape, you can use one of your self-retracting metal tape measures that everyone has, and measure your head's circumference in a clumsy but effective way. 
It's important to place the measuring tape about an inch above your eyebrows, and wrap it around your head in a straight plane just above your ears. 
However, even though my head measurement confirmed the dimensions of the unwanted hockey helmet I had, I figured my head shape was wider than most, because of the pressure at the temples. Measure over your hair—after all, your hair has to fit into the helmet too.
Some people recommend cutting away with a box cutter at the foam to "mold" your lining better, but I don't think it's a good idea. Not only could you unintentionally make your helmet worse, but you're also defeating the purpose of the padding inside the helmet—to protect your head. 
What About the Foam Inside the Helmet?
Honestly, the foam helps, but may ultimately not be the deciding factor in the "fit" of the hockey helmet (you'll have to keep trying different brands of helmets on as foam may be distributed differently in certain models).
There are two main types of foam inside hockey helmets: EPP (expanded polypropylene), and VN (dual-density vinyl nitrile). As for how to tell the difference, VN is basically the thick smooth white layer, while EPP looks like granular black padding that looks a little more moulded.
The VN is also different in that you can press the tip of your finger against the surface, and it gives in to your pressure a little, but stretches back to its original shape. Some helmet models also have a thin "memory foam" liner—that type of memory foam popular in sleeping pillows.
Surprisingly, both materials are more or less equivalent in terms of comfort and also in safety against impact. The key thing, then, is the fit of the helmet by brand, and also the model that may cater to the more unique categories of head shapes.
I had to find my "perfect" helmet the tried-and-true way—entering a store and trying on the brands one by one. 
I also did research on the Internet before I left home because I suspected I had a wide head. I wrote down on a piece of paper the "wide" style brands out there so I could zero in on the first instead of wasting time going through so many helmet models.
How Did I Do My Helmet Fit Research?
What I did was go onto a search engine on my computer and try different criteria, such as using keywords after "best hockey helmets." For example, for my own perceived head shape, I searched by adding the word "wide fit." 
Because I was curious if any hockey helmet had wholly memory foam as its padding (none seem to do so) I went back to the "best hockey helmets" basic root and added "memory foam."
Here are the results I got so far, and feel free to help yourself to them; Search 1, Search 2, Search 3, Search 4, and Search 5. 
Then, on each website, I chose the "Find" command (usually under the "Edit" tab in the top bar of the search engine) and typed it into the opened small window: wide. Then the command highlighted for me the wide-fit helmets. That worked well!
Based upon the "wide" search, I came up with these models:
Bauer RE-AKT 95
Warrior Covert PX+
CCM Fitlite FL500
CCM Tacks 910
One good thing that this search taught me is that some helmets have adjustment knobs or clasps that can help you fit your helmet in a more customized way. See the 0:21 mark of this video to see an example of adjustment mechanisms that can help your helmet fit better.
 See also the 0:29 mark of this video as another example. 
So which helmet did I pick? I'm not going to tell you, as it's a personal decision, but I'm really happy with it now, and my headaches are gone.
Another option that might become the standard someday? Get a custom-fitted one! I didn't need to go that far, but maybe you would want to give it a try. It would be great to get one, like maybe some of the NHL pros have? Wonder how much it costs?