In the heat of the moment, being able to see a hockey puck flying at your head gives you the ability to analyze the benefits of a fight or flight scenario quickly. If your vision is blurred, it impedes your ability to make the winning play.
So, what is the best answer to obtaining 20/20 vision during the game and keeping your head intact?
Prescription Hockey Visors
The use and availability of prescription visors have been debated in hockey rooms and forums for several years. One concerned parent turned inventor created the Helmet Shield as a possible solution to the age-old question. 
The Helmet Shield, according to the inventor, provides protection and sight enhancement without the use of goggles or contact lenses beneath the helmet.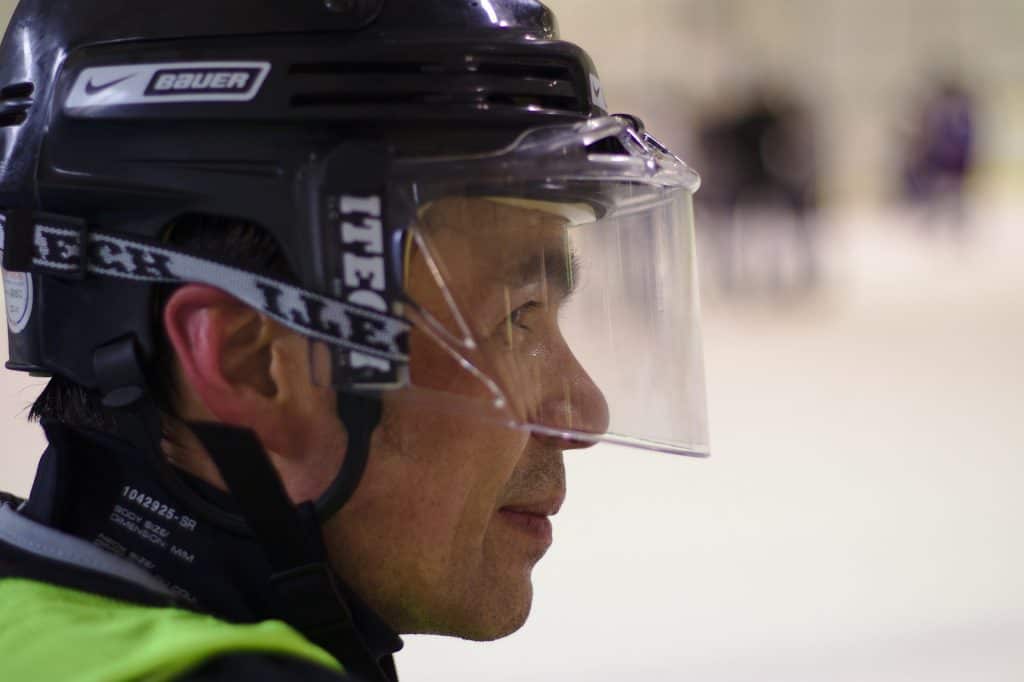 How it works is once a player has seen the Ophthalmologist and has their prescription, the prescription is infused into the visor fastened inside the helmet.
The benefit of a prescription visor is that it would eliminate the fogging over that usually occurs with goggles and protects the eyes without worrying about glass fragments due to a hard hit.
Without these concerns looming in the back of the player's mind, they can focus on the task at hand and play to their full potential.
Oakley and SportRX also offer a version of the prescription sports visor using PRIZM lenses and special-ordering through their site. In this case, you customize the visor on their site with the prescription, and they will make it and ship it to you.
The reviews show that prescription visor has been well received.
Benefits Of Using Prescription Visors
There are several benefits to using a prescription visor, such as:
Prescription visors are distanced from the face, so there is less fogging up.
If your eyes are sensitive to contacts or irritate them, you need not wear them.
Greater visibility without the use of goggles
Greater visibility without having to worry about the safety of your glasses
Less self-conscious about how you look so you can focus on the game
Prescription visors can be the right solution for you; however, you should be aware of some of the disadvantages of using prescription visors.
Disadvantages Of Using Prescription Visors
Things to consider about using prescription visors:
Unlike glasses, the visor sits further away from the eyes, which may strain vision, especially with peripheral vision.
Headaches from straining your eyes
Dizziness due to the imbalance of vision
The cost can be significantly higher than for goggles or contacts.
Prescription visors have a limited selection of places you can get them.
Moving your entire head down to see vs. moving your eyes down
You may find that prescription visors are a viable option for you and work well-within your comfort level. If you see more disadvantages than advantages, you may want to try another option, sports goggles.
Prescription Sports Goggles 
The one thing that can be said about prescription goggles is that they are easier to find in every color under the sun to add a bit of personal flair to your game. Goggles do come with their own advantages and disadvantages, just like prescription visors.
Benefits Of Wearing Prescription Sports Goggles
They are form-fitting to the eyes, so it is easier to see
Sports goggles protect the eyes.
They are easily adaptable to head size and helmet size.
There is no irritation or dry eye associated with prescription sports goggles.
No risk of Hypoxia associated with sport goggles
A definitive fashion statement, be trendy.
Keeps sweat from rolling into your eyes
Keeps out wind and debris from the eyes
Disadvantages of Wearing Prescription Sports Goggles
Peripheral vision is impaired, especially at the corners of the goggles.
Goggles can fog over if worn inside a caged helmet.
Greater risk of being hit due to fogging or peripheral vision obstructions
Wearing Contact lenses During Hockey Games
If you are not a fan of visors or goggles, you may enjoy the freedom that contacts can provide while maintaining 20/20 vision and peripheral vision. Sports forums have recommended that obtaining soft contact lenses is the way to go if you are going this route.
If you are used to wearing contacts in your everyday life, this may indeed be the most comfortable method for you but, as with everything, contacts have their own list of pros and cons.
Benefits Of Wearing Contacts
No impediment to vision, even peripheral
Comfort level, especially if you wear them all the time, allowing you to focus on the game.
Disadvantages Of Wearing Contacts
No eye protection
Itchy, red eyes if your eyes are sensitive to contacts
Risk of Hypoxia 
What To Look For In Prescription Sport Eyewear
Now that you are aware of the options out there and the advantages and disadvantages of each one, you should know what to look for in protective prescription gear.
First and foremost, the normal protective gear you would wear in a working environment does not translate well to a sporting environment. Sports are high-impact, and you need to purchase equipment made to hold up in this kind of environment.
There is a variety of shapes and sizes to suit personal style. With hockey, you would want to select eyewear that fits inside a helmet snugly and comfortably unless you are using a visor or contacts.
There are sport-specific goggles catered to the specific challenges that each sport provides. The make of the lens is important, but so is the framework that holds it, making sport-specific frames a good choice for the longevity of form and function.
Sports eyewear is generally comprised of polycarbonate because of its impact-resistant qualities. Another quality of polycarbonate is that it offers UV protection, which provides adequate protection for outside play.
The scratch-resistant coating is attractive, especially in contact sports, and makes them incredibly durable. Sports frames are usually equipped with rubber around the head and nose to cushion the blows of impact sports.
When determining what kind of prescription eyewear you are going to use, asking your optician for solutions to your concerns will steer you in the right direction. They can provide you with several samples in the frame, lens tint, and fit. Fit is of paramount importance to improve your game.
Photochromic lenses (transition lenses) are also something to consider because they allow you to see through various changing light conditions. Your eye doctor will be able to advise you of what brands will fit your needs. Feel free to shop around to make sure you have the right fit.
Final Thoughts 
Performing your best as an athlete requires that you have:
Clear Vision
Comfortable Fit
Safety
If these things are covered, you are less distracted and able to keep your mind on the game instead of adjusting the fit of your eyewear or scratching at itchy, red eyes. Your performance greatly depends on your eyesight to improve your reaction time and be self-aware.
Going in prepared and ready to play with the proper equipment is safe, and that safety extends to your teammates who will be soon celebrating their next win!